In the beginning was the Word, and the Word was with God, and the Word was God." John 1:1 (NIV)
My wife and I just watched the most incredible display of unspeakable joy! It was so profound I am including it in today's Advent adventure for you to see. They say a picture is worth a thousand words. I hope you will watch this brief YouTube video of the Kimyal Tribe in Papua, Indonesia celebrate the arrival of the New Testament Bible in the Kimyal language for the first time! It quickened our hearts as I know it will yours for the appreciation of the Word of God. It also underscored the deep gratitude we feel in our hearts for the availability of God's Word to us and the Great Commission to spread His Word to others. Just watch the difference God's Word made in the lives of this one tribe who have long awaited its arrival! (Warning, you will want some Kleenex as you watch.)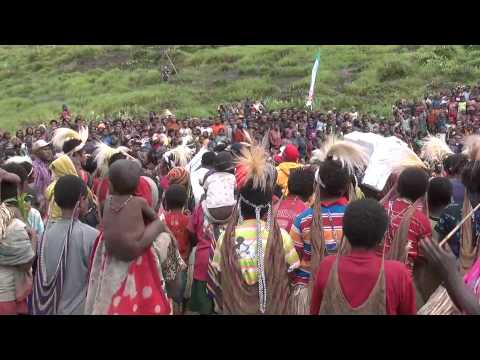 How powerful! How amazing! Words escape me, and I'm a preacher! I couldn't help but think of Simeon especially when that one tribal leader mentioned him in the video. You can read about him in Luke 2:25-35 (NIV)
"Now there was a man in Jerusalem called Simeon, who was righteous and devout. He was waiting for the consolation of Israel, and the Holy Spirit was upon him. It had been revealed to him by the Holy Spirit that he would not die before he had seen the Lord's Christ. Moved by the Spirit, he went into the temple courts. When the parents brought in the child Jesus to do for him what the custom of the Law required, Simeon took him in his arms and praised God, saying: 'Sovereign Lord, as you have promised, you now dismiss your servant in peace. For my eyes have seen your salvation, which you have prepared in the sight of all people, a light for revelation to the Gentiles and for glory to your people Israel.' The child's father and mother marveled at what was said about him. Then Simeon blessed them and said to Mary, his mother: 'This child is destined to cause the falling and rising of many in Israel, and to be a sign that will be spoken against, so that the thoughts of many hearts will be revealed. And a sword will pierce your own soul too.'"
Think of it – Simeon had awaited a promise God had given him all of his life! He would hold in his own arms the Word of God for in the beginning was the Word and the Word was God! Jesus Christ is the living, breathing, incarnate Word of God. He is the physical expression of everything God would say to you and me concerning His eternal love for us! With Christmas only a week away, how fitting in our Advent adventure to be reminded of the value of God's eternal Word! May it ever point us to a more intimate and personal relationship with Him, the Living Word!
Oh God, we treasure Your Word in our hearts that we may not sin against You; that we may know You more intimately and become more personally identified with You, recognizing and perceiving the wonders of Your character; that we may better reflect Your image and display the beauty of Your glory! Renew in us that love and joy for the revelation of Your written Word.
How can you make God's Word more available to others this Christmas?
Pray for the Kimyal Tribe in Papua, Indonesia and for all those around the world who have yet to receive a Bible in their language.
Open God's Word today with fresh eyes as though it were your first time and read it again with wonder and delight as you fellowship in prayer with its author.